Gretel Warner
New Year, (probably) Same Me.
As someone who absolutely loves Christmas I absolutely despise the period of time that follows. Once Christmas Day is over I see no point in winter and it may as well be June. Its that grey area where you don't really know what day it is, your clothes are feeling a bit more snug than a week ago, all of your routines went out of the window at the same time as your waistline and deep down at the back of your head you know that it's time to stop eating like a gannet, get back to work and randevú with your other, moderately tedious, adult responsibilities. C-B-A. Every year I find my mental health on very rocky shores around this period of time; the long lead up to Christmas, the excitement and anticipation, and then its done, just like that. I'm not entirely sure why, but I just struggle with that concept, and it takes a lot for me to keep myself and my moods afloat.
Next thing you know it's new year, and in my opinion, the whole 'new year, new me' is bull sh*t. If I put too much pressure on setting myself these unachievable goals I end up being confronted by huge sense of failure, before I've even dragged myself past January the 2nd. Crash and burn. Get that fire exit door, i'm off. GC style.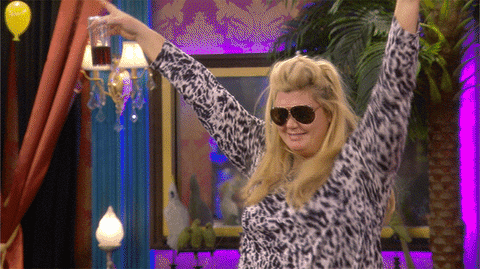 So this year I decided to approach things a little differently. A friend mentioned to me that they was creating themselves a 'vision board' for the upcoming year and I thought I may as well give it a go myself. The idea is that you have your goals for the year all in one place, and that the goals are specific and achievable! For example, one of my main goals is to be involved in a show/exhibition this year. Not something like 'become a world famous artist'. I have put other small goals on mine, such as, learn a new skill or join a new sporting club. Bitesized things that are 100% doable. I've also found it has helped me feel a little less miserable; having my plans for this year all noted down in one place made me realise that my life is full of freedom and opportunity- which is something I tend to take for granted.
Not only is this a good idea for career based goals, it's a nice space to note down the places you want to visit, and the things you want to do in the year! Again, be fair to yourself and don't put down places that you know you will never be able to afford! Maybe put a few free (/cheap) days out on there. Going to new towns and checking out their charity shops is one of my favourite things to do with my mum. We usually go for some lunch and cake somewhere, but if you are wanting to keep the spending back you could always make a lunch at home and find a nice spot to eat it! In such a consumerist-led culture it is easy to think you have to spend money to have fun but things don't have to cost a fortune and fun certainly isn't measured by money. There's no getting away from it, it 100% helps to have money, and anyone who says differently is lying; however, there are usually always ways around spending a fortune! Like when you can't afford drinks on a night out… binge drink K cider before arriving. Quick math.
Anyway, as always, I digress. Like I originally mentioned, I find this time of year (mentally) very testing, but not really for any particular reason, and because of this I actually find myself feeling really guilty for feeling so downtrodden and low. I have a great life filled with wonderful family and friends, I have a job and pretty good health etc, but I still find myself having to talk myself into life most mornings. So it got me thinking; firstly I need to stop being such a self-pitying whiny cow, and secondly, there must be other people who feel the same. So I figured I would share this online, as any tip might be helpful to get you out of any rut you may be finding yourself in this January.
To conclude, I would say "lets win at 2020" or "HASHTAG TEAM 20" or some awful spew, but that's not really my vibe. Just try and be kind to yourself and make sure you do things that make you feel good.
(p.s. I've attached my vision board bellow for anyone who wants to make one).